Many centuries ago, the wealthy and aristocratic gentle folk of England would visit a spa to take the waters or imbibe fresh air at the seaside. A holiday was seen as the active promotion of good health. As time went on and the wealth of Britain trickled down to the lower classes, working class people began to take holidays on the coast or in the country. Often, this was for two weeks when factories or collieries would close down and the entire workforce received an enforced break.
Self-catering accommodation often meant renting a few rooms in part of a private house and cooking as one would do at home on limited facilities. This way it was possible to live as cheaply as at home. A picnic lunch could be prepared to take out for the day to avoid paying for lunch; families tried to give their children a bucket and spade holiday on a shoestring.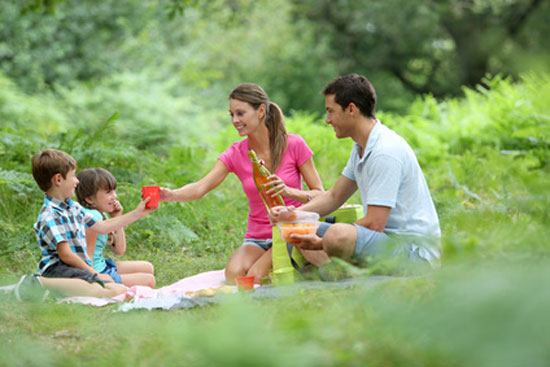 Holiday camps began springing up in the 1930s when Billy Butlin opened his first holiday camp in Skegness on the Lincolnshire coast. Several other holiday camps followed. These offered basic self-catering accommodation with organised entertainment designed to keep holidaymakers busy and happy.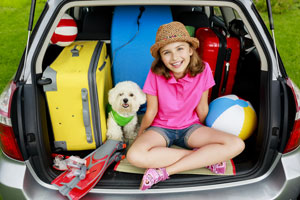 As people could afford cars to take them to various places around Britain, camping became popular as an inexpensive self-catering holiday. Children would help to fetch the water in containers from a pump on-site and everyone contributed to the preparation and cooking of food on a small gas stove with perhaps two rings. Toilets and showers were communal and inevitably across a field. Despite all the challenges of outdoor living, the unreliable weather and insect invasions, people enjoyed their camping trips and made the most of their time and money.
A caravan holiday became the next step up from very basic conditions of camping. These mobile homes allowed for greater security and comfort despite cramped accommodation. Holidaymakers now had running water inside the accommodation although many still had to rely on communal wash and toilet facilities in the early days.
During the post war decades, technological and economic development brought international travel and package holidays. The holiday industry grew at a phenomenal rate and the choice widened at all levels of society. Inevitably, once holidaymakers experienced constant and almost guaranteed sunshine, beaches abroad became a magnet and our own seaside resorts paled in comparison. Butlins holiday camps were squeezed by new competition and reduced to three. The number of types of self-catering breaks swelled to include boating holidays on the Norfolk Broads.
It is change that has contributed and shaped British holidays and outdoor activities. The disused peat pits and reed beds in Norfolk and abandoned canals were employed for self-catering cruising holidays, old railway lines were converted to traffic-free cycle paths. View self-catering holiday cottages in Norfolk.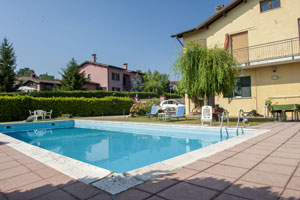 Over time, holidaymakers developed more sophisticated desires which had to be heeded by the holiday industry to survive. Simple basic holiday accommodation was superseded by attractive holiday cottages with their own gardens. Spacious living quarters and private enclosed gardens attracted those who could afford these salubrious conditions. Nowadays, holidaymakers demand swimming pools, spas, barbecues in the garden and private saunas.
Specialist accommodation tailored to people with certain needs and demands has grown over the years. Government legislation has improved the lot of holidaymakers with disabilities and cottage owners have not only complied with legislation but also tailored their accommodation to focus on self-catering holidays for the disabled.
We are now in the age of specialist self-catering breaks. Couples with a baby can stay in a holiday cottage that has numerous items of baby equipment and not just the standard cot and high chair. There are holiday homes for parties and special occasions, holidays that offer tuition in various sports, arts and crafts. If you would like an eco-holiday, someone will have one for you in various shades of green. Dog owners have traditionally opted for pet-friendly self-catering holidays close to home because they wanted to take their dogs with them. The choice of UK holiday cottages has never been greater.
Politics is also shaping our holiday decisions. The Middle East conflict has added an element of danger and uncertainty to some of our former holiday choices. More holidaymakers than ever are taking security into account when booking holidays which means selecting 'safe' destinations and many decide to holiday in the UK.
Fortunately, we have a wealth of self-catering holiday accommodation in the UK and Ireland. There is every type of accommodation represented from one end of the spectrum to the other. It still comes down to budget, preference and location. The most important factor is that you and your family will be safe and sound.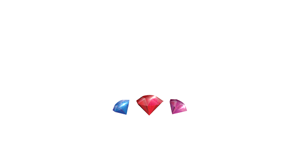 Cottage Gems features luxury holiday cottages, stylish lodges, 5 star retreats and country houses.

XE Website Solutions Ltd
01245 425 718
[email protected]
Registered Address:
17 Fennfields Road
South Woodham Ferrers
Essex
copyright © selfcateringcountrycottagesonline.co.uk